2020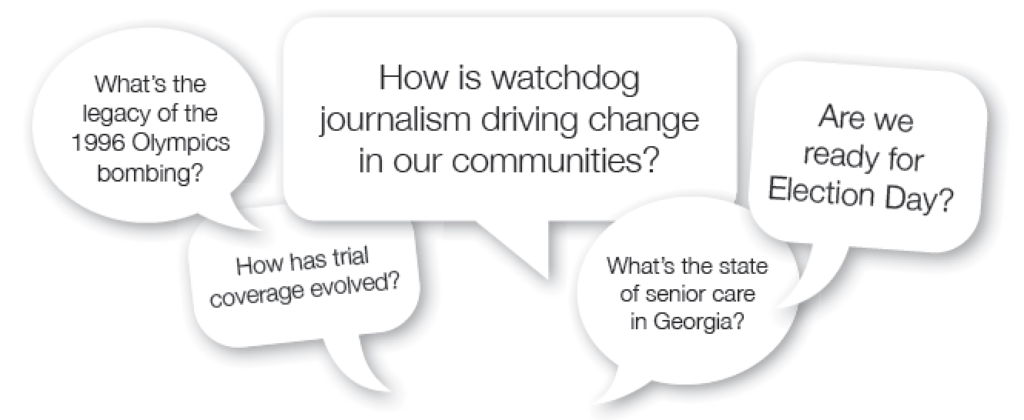 The 29th annual event on Feb. 28 was focused on issues at the intersection of the First Amendment, journalism, courts and the law. The day-long event, held at the State Bar of Georgia in downtown Atlanta, attracted nearly 170 attendees to thought-provoking discussions on a wide range of First Amendment issues and trends.
---
2019
"Law, Justice and the Holocaust" was the centerpiece session at the 2019 Georgia Bar Media & Judiciary Conference on Feb. 22 at the State Bar of Georgia Conference Center in downtown Atlanta. The day-long event focused on First Amendment issues, government transparency, free speech and more. The presentation by the Holocaust Museum in Washington, D.C., explored the role lawyers and judges played in Germany's transformation from a democracy to a dictatorship under Nazi rule.
Also on the schedule:
New tests for the media: Keeping public trust in a polarized world
City of Atlanta transparency
New rules for public access to the courts
Podcasting Georgia's civil rights past
Civility and free speech on college campuses
WABE's Political Breakfast, live and on the record
---
2018
Atlanta Mayor Keisha Lance Bottoms was the keynote speaker at the 2018 Georgia Bar Media & Judiciary Conference focused on First Amendment issues and government transparency. Bottoms, who participated in the conference as a candidate in 2017, addressed her administration's perspective on openness and accessibility to citizens and the media.
The CNN-sponsored conference was held Feb. 23, at the State Bar of Georgia Conference Center in downtown Atlanta. The annual gathering, in its 27th year, drew judges, attorneys, journalists and citizens. On the agenda:
A discussion of changes ahead for the Georgia Supreme Court and the state's judicial system.
A forum of candidates in the 2018 race for the governor's office.
A conversation with U.S. Supreme Court experts and advocates about First Amendment issues before the Court — and the possible ramifications for Georgia.
An exploration of cultural challenges to the First Amendment emerging from generational changes, the power of "fake news" and more.
Scenarios of how sexual harassment claims could play out in companies, courts and the halls of government in Georgia.
In addition, Georgia Public Broadcasting's Political Rewind host Bill Nigut and his team of pundits and prognosticators talked politics in a session broadcast live from the conference.
---
2017
The Georgia Bar Media & Judiciary Conference on Feb. 24 in downtown Atlanta offered attendees a view into how First Amendment issues were playing out across our state and nation. On the agenda of the CNN-sponsored conference:
Public discourse in post-election America (keynote speech from CNN's Brian Stelter)
A conversation with state Attorney General Chris Carr about open government enforcement in Georgia
What the public needs to know about disciplinary systems for doctors
Challenges and opportunities of a new Georgia Judicial Qualifications Commission
Medical, legal, privacy and journalistic issues in a public health crisis
Georgia political roundup
Atlanta mayoral candidates forum